Shopping Cart
Your Cart is Empty
There was an error with PayPal
Click here to try again
Thank you for your business!
You should be receiving an order confirmation from Paypal shortly.
Exit Shopping Cart
| | |
| --- | --- |
| Posted on May 7, 2020 at 7:55 PM | |
Jesus Wept
Prophetess Vickie Lee:   Originally Posted on Friday, August 02, 2013 12:52 PM
Jesus Wept.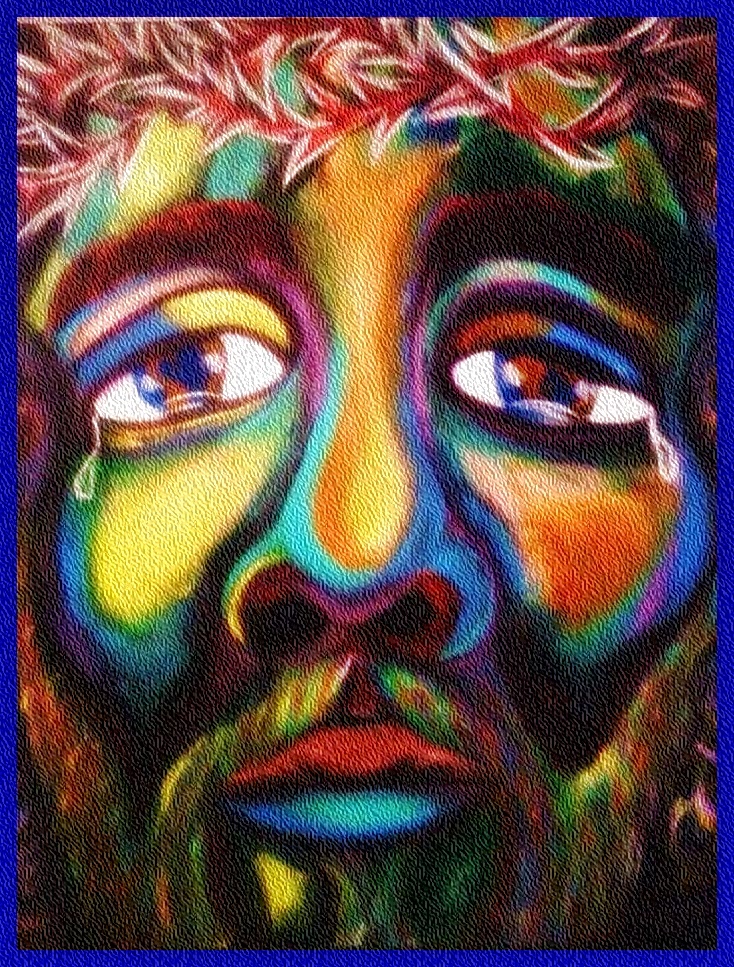 "But the Spirit himself intercedes for us with groanings too deep for words."
John 11:26
Soul peace!
That is a peace that comes to you from God and God alone. It is tranquility of your desires, mind, feelings, emotions, and will. I know, I know, but the Bible says it is a peace that surpasses all understanding. We do not understand it, but the Lord does! Soul peace, Prophetess?!? If you only knew what I am experiencing in through here.....You do not "get it". It is not for me to "get". You have to know that the Lord "gets it". He can relate!
Hebrews 4:15
For we do not have a High Priest Who is unable to understand and sympathize and have a shared feeling with our weaknesses and infirmities and liability to the assaults of temptation, but One Who has been tempted in every respect as we are, yet without sinning.
Not only does He understand, He is actively doing something about it! Do you remember the story of Lazarus, Jesus' dear friend (John 11)? Lazarus had been ill and died.While Jesus was on the way to Lazarus' tomb, the shortest verse in the Bible says, "Jesus wept" (John 11:35). He sobbed and wailed aloud. He had seen the Jews including Lazarus' sisters, Martha and Mary crying, but their reasons for crying were different than Jesus's. When Jesus saw them crying the Bible says He was "deeply moved", He groaned in spirit and was troubled.(vs.33). In other words,He was stirred in His spirit! His groaning was to such a depth that the Jews said, "Look! He loved Lazarus very much."Jesus wept" does not mean silent tears trickling down his face. Jesus was in intercessory prayer as He walked toward Lazarus' grave! Yes, some thought He was mourning, "But some of them said, "Could not he who opened the eyes of the blind man also have kept this man from dying?" They may not have been able to fully explain what they were witnessing, but they knew that the weightiness of what they were witnessing spoke to this being about more than just tears of sorrow. Sweet Jesus is moved with compassion toward us! He "gets it" and just as with Lazarus, He is willing and able to move on our behalf. Hebrews 7:25 says He lives to make intercession for us, to make petition to God and intercede with Him and intervene for us. Those of us who come to God through Him. Christ can do this forever! No matter what it is, Jesus paid it all. Back to Lazarus! John 11: 38 says "Jesus therefore again groaning in himself...You see, this is where Holy Spirit showed me Jesus was interceding in prayer. I could see Him with my spirit eyes and any true intercessor has been there. In deep intercession to where one is just groaning. It is scriptural, too!
Romans 8:26
Likewise the Spirit helps us in our weakness. For we do not know what to pray for as we ought, but the Spirit himself intercedes for us with groanings too deep for words.
Wordless groans! "Sighing repeatedly" one version of the Bible says. He was praying by the Spirit: In conversation with God. Jesus, Our Exemplar, even the incarnate Son of God did not get out ahead of God, but prayerfully moved forward to heal from death. Intercessory prayer is warfare and Holy Spirit is the source of any power we wield in prayer. Jesus' whole ministry,(as should be ours), was one that was led of and empowered by Holy Spirit. Jesus models for us that being led of the Spirit, being yielded to the Spirit moving when and where God directs, manifests the Kingdom. (John 5:19 )"Very truly I tell you, the Son can do nothing by himself; he can do only what he sees his Father doing,because whatever the Father does the Son also do." Jesus was being led of the Spirit and He began to give direction as He did what He saw Father doing. "Roll away the stone." The Lord continued on in prayer (John 11: 41-42) So they took away the stone. And Jesus lifted up His eyes and said, Father, I thank You that You have heard Me. Yes, I know You always hear and listen to Me, but I have said this on account of and for the benefit of the people standing around, so that they may believe that You did send Me." Why would that make them believe? Jesus is praying aloud, in conversation with Abba Father in this prayer dialogue. He was helping them to see the connection. Jesus: Father,thank you for hearing me. Father: I always hear you! Jesus: 'Yes, I know you always hear and listen to me. These people need to know and believe that what is about to happen is as a direct result of our relationship. After all of that groaning,that intercession, the miraculous happened: Lazarus was raised from the dead! And it was because "Jesus wept". He brought it before Father in prayer.Yes, He continues to "weep", to intercede for us, with us, and, more importantly, through us.You need to know that Jesus understands every single, solitary thing you are going through. The good, the bad and the ugly. When you pray and are stirred and "moved in spirit" to wordless groans, you need to know that Father hears and understands you! Yes, Beloved, He "gets it". Remember that Holy Spirit helps our weakness and intercedes through us so that we are praying as we ought, a perfect prayer. And it is NOT always about US and our own issues. Intercession is a calling that includes all of us FOR all of us as the Spirit directs. Be available! Go deep! Be willing to "weep" in prayer. It is our principal weapon in opposing the powers of the enemy. I am convinced that when we take our eyes off of self to handle God's business, He handles OUR business. We deal with personal, domestic, and congregational attack through prayer; Warfare prayer, including worship. Pray, Beloved and expect the miraculous! Take it to the throne room, to the altar and leave it there. If you weep, you are in good company! Jesus wept.   Halleleujah!
Pray without ceasing!
Prophetess Vickie Lee
| | |
| --- | --- |
| Posted on May 7, 2020 at 3:10 PM | |
Elohim Koreh:  God Calls
 Originally Posted on Friday, February 15, 2013 10:17 PM
Elohim Koreh: God Calls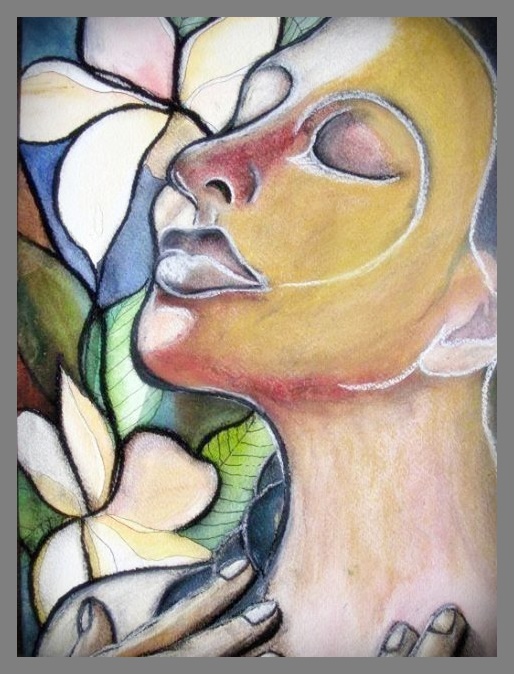 I sleep, but my heart waketh: it is the voice of my beloved that knocketh, saying, Open to me, my sister, my love, my dove, my undefiled: for my head is filled with dew, and my locks with the drops of the night.
                                           Shir HaSharim ~ Song of Songs
                                                         Song of Solomon 5:2
Grace, mercy, and peace to you, Beloved of God,
    I am just coming out of fellowship with the Lord. He summoned me to prayer. He loves to spend time with us! He will actually draw us to him. When I think about social network sites:" Pokes", and "messages" and on-going "newsfeeds" from our various lives I note, Abba likes to be in regular touch with us, too. And not just in a set aside,"Every morning at 5:30 I pray", type way where it is out of sort of habit, good though it may be. Abba wants us to always be ready to commune with Him. If He summons us to prayer, rest assured He has something to say, or He wants us to pray for someone, or He wants to forewarn or guide specifically. Most times He just wants to hear our voice because He loves us. Abba speaks all the time. One just has to have an ear to hear. An ear to hear the Kol Dodi , The voice of The Beloved. If you have even the slightest thought of prayer, He is summoning you! It sure isn't the enemy having you to think like that. Stop! Quiet yourself, turn your spirit to Him, ASK Him what it is He wants to say to you. He is the head of Our faith community, the main one we should be keeping "in touch" with. Amen. FAITH BOOK. I'm just writing out of my spirit. "God if I check in with you as much as I drop by my page…."Abba desires to spend more time with His children. I encourage you to keep an open dialogue going with Him all the time. The more you are around a person, communicate with a person, and share your heart with a person, the more you pick up their ways. You know their voice even in a crowded room. You know their ways, their character, their personality, likes, and dislikes. You come to even think alike, completing one anothers' sentences. How do you get the "mind of Christ"? It's from that communing with Him…and reading the Word. Do both at the same time. In Jewish tradition, studying the Word (Torah), is the highest form of worship. Worship Him! Purpose to respond to Abba Father when He calls. You expect Him to respond to you immediately when YOU call, do you not?!? I just want to exhort you to cherish your time with Him! What a privilege to be able to hear His summons by His Spirit, and because of Jesus' ultimate sacrifice, have free access, 24-7 to Ribono Shel Olam, the King of the universe! Access to Our Father in heaven whenever we want, as long as we want, as often as we want…..Awesome. The people of God need to take advantage of that privilege. Those of us who live in nations where that is freely allowed have no excuse. When you discern that tug at your heart strings, respond to Him. You will find it gets easier and easier to discern and respond; It is walking in the Spirit. Thank you Father, for sharing your heart with us," I miss my time with you". God we love you! Amen. Keep drawing us with your finger of love….. Elohim Koreh…."God calls".
Grace,grace
Prophetess Vickie Lee
| | |
| --- | --- |
| Posted on May 7, 2020 at 1:50 AM | |
Prime the Pump
Prophetess Vickie Lee: Originally Posted on Saturday, April 06, 2013 11:29 PM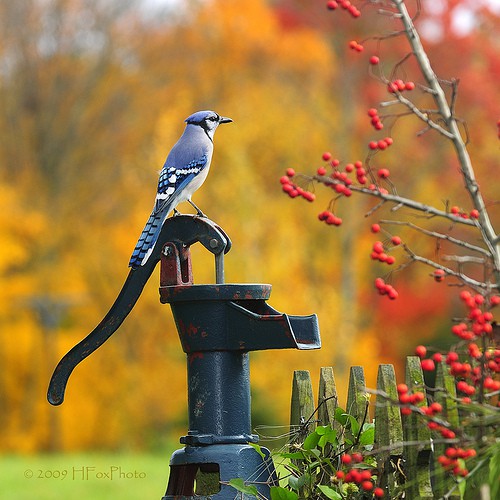 Prime the Pump
Jesus, keep me near the cross,
There a precious fountain-
Free to all, a healing stream-
Flows from Calv'ry's mountain.
Refrain:
In the cross, in the cross,
Be my glory ever.
Till my raptured soul shall find
Rest beyond the river.
 Question:  Are you sensing a build up leading to an anticipated change in the mission God has for your life?
I know I am in a transitional season where I can see that God has been "priming the pump" so that He can use me more effectively and more in line with the call upon my life. What about YOU?? I see some spiritual connections in priming a pump: Water pumps will run out of pressure and stop working if turned off for an extended period of time, such as over the winter. In order to get the pump working again, it needs to "primed": water needs to be flushed back into it and forced through in order for it to create enough pressure to begin pumping again. Jesus told us"Out of your belly shall flow rivers of living water." There is purpose, meaning, and ministry in those waters. As the people of God, we are to have waters of life flowing through us. God "primes the pump" so that Living Waters may flow and the pump is primed in the Cross. The water is there, but have we run out of pressure? Are you compelled, is there an urgency, even a burden to get moving in the things of God? If there has been a wintry season of spiritual life or ministry, I want to encourage you to let God prime the pump so that you can flow in the Spirit again. In the natural, the operation called "priming" is when you have to refill the whole system with water. In the things of God our whole being needs to be filled with the Spirit of God! Holy Ghost water pressure is needed!
When one primes a pump,water valves must be opened. There is a power source and there is an independent water source. Let me ask you: Is your heart really OPEN to God and yielded to His Presence and Kingship in your life? REALLY open? Examine yourself: Is your relationship with Him such that you are in connection with Him as your vital necessity? Your power source? Consider your ways: Are Living Waters from beneath the throne of grace, the primary source of water flowing through your being? Just as there are many voices in the world, there are other waters. We are speaking of pure waters. Drink deeply of the Spirit of God for YOURSELF. Thank God for following leaders as they follow Christ, but you must know God for yourself! He alone can prime the pump. It may be in reading the Word, a message from that Godly leader, a prophetic word, the refrain of a hymn, in the sweet hour of prayer, or in circumstances and situations. There is work involved in priming the pump and we are to cooperate with God. Personally, I was to stay faithfully on my assignments. In some ways, it was a test to be passed. While He gave me tokens of encouragement, I was expecting more effective ministry. The thing was, and is, to keep working the assignments right where I am. God is priming the pump! Many times, in difficult situations is where our faith is increased. Don't be discouraged! God is working that pump to draw waters from a deep well. The whole time He is applying the needed pressure, drawing out the living waters.His hand in yours and mine awaiting the bursting forth of giftings, the anointing, the Kingdom! When I think of priming the pump, I can almost hear the squeaking of the lever, crying out for oil. The oil of the anointing of God! It may not necessarily be comfortable to the flesh because those "healing streams" flow from Calvary's mountain: Crucifying the flesh. Stay "In the Cross"! He is preparing you to flow! Psalm 1 reads that when we meditate on His Word we are like a tree planted by rivers of water, yielding fruit and whatever we do will prosper. His leaves shall not wither! And one thing about it, when those waters flow, it will edify that one through whom they flow and it will bless others God wants them to refresh. Refreshing waters and fruit of the Spirit. We cannot afford to be dry in the Spirit with withered leaves. The Body of Christ is only so strong as the members of which it is made. We all need to be "wet" in the Spirit. It speaks to life! God forbid that we should be a "dead" church! Thirst after God and pursue Him. That precious fountain is "free to all". Amen. Embrace that divine restlessness you may be experiencing: You are being primed for a transition! Stay right where you are: In God's perfect will. I think I hear the water now.......
Grace, mercy, and peace,
Prophetess Vickie Lee
| | |
| --- | --- |
| Posted on May 6, 2020 at 7:50 PM | |
Originally Posted
Kerygma Blog
Empty Vessels
Prophetess Vickie Lee: Posted on Monday, October 27, 2014 1:25 AM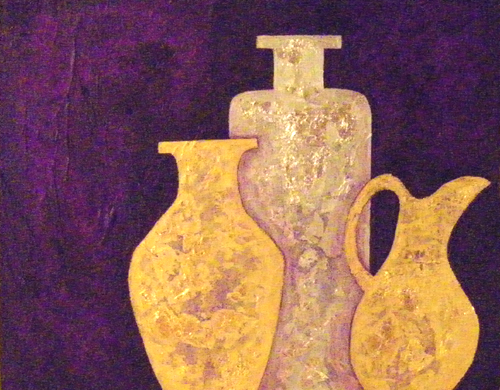 Empty Vessels




 

There is an interesting idiom which says, "Empty vessels make the most noise/sound." I found God in it!

It means that people who talk a lot and frequently express their opinions are often "talking loud and saying nothing." It means to say that one is noisy because there is nothing IN there. An "empty vessel" is one whose thoughts, etc. clang around, noisily, bouncing off the walls of their intellect, mind and being adding nothing of value. In the world one is better heard if they are full of ideas, education, pride, and self. I have nothing against education or God-ideas, you understand. All good and perfect gifts come from God, including a keen intellect. It is just that the notion of an "empty vessel" in the world is polar opposite to the way the people of God see an "empty vessel". For the child of God desires to be emptied of self, that he or she might be used of God. "An empty vessel makes the greatest sound" is another version of the idiom. Now THAT I can agree with. I am not speaking of just ANY vessel. Oh, no! I mean a vessel of gold, one used of God. For the greatest sound as of a mighty rushing wind blows through such an one, empty of self, yielded to the unction and leading of Holy Spirit. There is Someone IN there! Holy Spirit! We are talking about the gold standard of the sanctified "empty vessel":

2 Timothy 2:20

But in a great house there are not only vessels of gold and of silver, but also of wood and of earth; and some to honour, and some to dishonour.







A vessel of Gold is empty of self! How many times have you heard a minister of the Gospel pray,"God all of you and none of me"? Oh, my! We need to hear from God! We need to hear the "greatest sound"! Even Jesus said it was not HIS teachings, but God's which had such an impact. My teaching is not My own, but His Who sent Me. John 7:16. It was in the power and authority our Father in heaven had given Him. Jesus did not speak on His own, so empty of self, and yielded to God was He. Ah! To be so empty that God gets all of the glory! But how to get there? One way to be emptied of self is to come to the end of ourselves. Lord Jesus! That can be a process. We have to learn to depend on no one, but God! He is to be the anchor of our soul. Now you understand that that comes about only as we lean on have faith in, rely on, and trust in the Lord through a myriad of circumstances and situations. There are no two ways about it. Surrender to the process of purification of the gold. It is about God building character in us. In the Kingdom, character takes precedence over gifting. I remember that early on in my walk with the Lord, he told me,"I have chosen you in the fire of affliction." Ouch! A perfect description. But, Jesus walked me through the fire! Just as He faithfully walks YOU through. He never forsakes us. Bless God!

Isaiah 48:10

Behold, I have refined thee, but not with silver; I have chosen thee in the furnace of affliction.

It is a refining process, Beloved. I would be less than candid if I did not tell you it does not feel good to have the dross, the "works of the flesh" burned off. Any attempt to end the discomfort only prolongs the process. It has been called "redemptive suffering" and the only way "out" is through. There is no way to skip over the process. It is a work of God and it can take years. It is specific to us as individuals and it is life-long, in that we may have to "re-visit" some areas, as needed, sometimes. There may "wilderness" experiences and there is no way around that: You can only get over it by obediently and humbly going through it One can have a call on his or her life, but does not want to let God take them through the process of emptying them of the gunk of which keeps them from truly shining to the glory of God the Father. Specifically, the dross/gunk is:

Galations 5: 19-21

Now the doings (practices) of the flesh are clear (obvious): they are immorality, impurity, indecency, Idolatry, sorcery, enmity, strife, jealousy, anger (ill temper), selfishness, divisions (dissensions), party spirit (factions, sects with peculiar opinions, heresies), Envy, drunkenness, carousing, and the like. I warn you beforehand, just as I did previously, that those who do such things shall not inherit the Kingdom of God.

Let me encourage you to cooperate with God. Surrender! But remember you are going for the gold! Only God can assay as to when one has reached that point. Yes, it is a refining process and it is worth it! If any of that stuff,the doings or works of the flesh, floats around in our vessel, we cannot make the "greatest"sound which shouts "The Kingdom is come near to you." Beloved, "The Kingdom of God is within YOU." In your hearts, in the midst of you, among you, and surrounding you. That is not me talking, but I quote the Lord in Luke 17:21. We have to grab ahold of that because in this hour, God-prepared and trained, vessels of gold, ministering and living out of Kingdom power and authority, is sorely needed. A people making a "sound" which issues from the very heart of God! A people inspired by Holy Spirit. Empty vessels boldly speaking the wisdom of the Word of God. It may be passionate, fiery, anointed, and yes, sometimes loud, but it is not just "noise". That is how folk get healed, delivered, and set free. For the very power of death and LIFE is to reside in our tongues. Consistently! In the Body of Christ universal! Bless God! In Africa, Antarctica, Asia, (glory!) Australia, Europe, ( Hallelujah!) North America, and South America, (Thank you, Jesus!). Empty vessels fit for the Master's use! Doing the work of the ministry right where we are: at home, work, school, the bank, grocers, with family, friends, neighbors, friends or strangers. Whenever and WHEREever, may God use us mightily! Amein. But what do I have to DO, Prophetess?

Same question, same answer right in Holy Scripture:

John 6:28 - 29

Then said they unto him, What shall we do, that we might work the works of God? Jesus answered and said unto them, This is the work of God, that ye believe on him whom he hath sent.

There is no great mystery here, is there? Just love Jesus and nurture your relationship with Him! I have written many times that everything flows from that love relationship with Him. We MUST understand that no Spirit infused, gold-standard, effective, long-term ministry is going to come, apart from that. It is simply the truth:

1 Corinthians 3:11-13

For other foundation can no man lay than that is laid, which is Jesus Christ. [emphasis mine] Now if any man build upon this foundation gold, silver, precious stones, wood, hay, stubble; Every man's work shall be made manifest: for the day shall declare it, because it shall be revealed by fire; and the fire shall try every man's work of what sort it is.

Dear ones, if you would be an empty vessel, emptied by God that is, yield to Him. The foundation of godly character is forged in fire. Gold is only purified in fire. There is a heat in crucifying the flesh to a state of emptiness and absolute surrender to Him. You say you want God to use you? You say there is a call on your life? Well, it is so true that the higher the call the deeper the foundation. You say you want MORE? We cannot MAKE anything happen. Yield to Him!! The more time we spend with Him, the more we become like Him as we acquire the divine nature and character of God. In communing with Him, He is imparted to our very beings. It is "within" us and it is a treasure!

Proverbs 8:21

That I may cause those that love me to inherit substance; and I will fill their treasures.

Beloved, we need to be emptied of self and leaning not to our OWN understanding so that God can fill us with heavenly treasures. A weighty "substance" of the oil of his anointing to pour out to others. That cup King David spoke of as "running over" is more than a cup in our hands, it is to be US in our whole being! Now that is an overflow! May you be blessed by the lyrics from the Rev. Milton Brunson's song, "Available to You"




Lord, I'm available to you,

My will I give to you

I'll do what you say do, use me Lord To show someone the way

And enable me to say

My storage is empty And I am available to you







Ruach haKodesh! Holy Spirit,"enable" us to say with the mouth of an empty vessel, with an undivided heart, with a pure motive,

in spirit and in truth "My storage is empty. Lord, I am available to you!" Have your way, Oh, God!




Geshem B'rakhot (Showers of blessings!)

Prophetess Vickie Lee

 







0

/