Shopping Cart
Your Cart is Empty
There was an error with PayPal
Click here to try again
Thank you for your business!
You should be receiving an order confirmation from Paypal shortly.
Exit Shopping Cart
| | |
| --- | --- |
| Posted on May 7, 2020 at 9:50 PM | |
Originally Posted February 10, 2011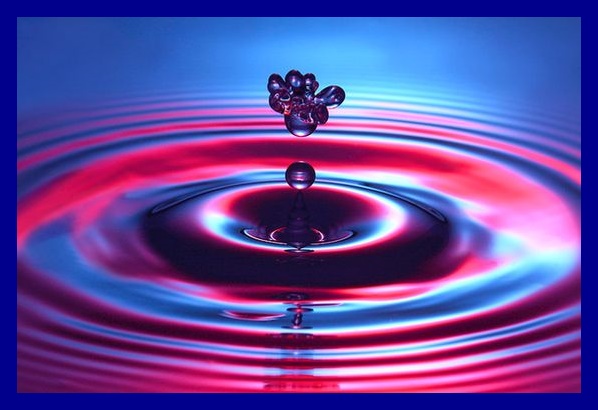 A Ripple on the Water
                                                                                                                            Joel 3:18
And it shall come to pass in that day, that the mountains shall drop down new wine, and the hills shall flow with milk, and all the rivers of Judah shall flow with waters, and a fountain shall come forth out of the house of the LORD, and shall water the valley of Shittim.
Peace be to you, Beloved,
Abba summoned me to prayer this evening. It was clear He had something to share that I am, in turn, to share with you. As I communed with Him, I saw a drop of water, just one drop that caused a ripple to begin on the water in which it fell."There's a ripple on the water", I heard. A ripple is water agitated by a breeze: It is to stir up water into waves as by wind. The wind of the Holy Spirit is doing a shaking, a light agitation. He is so powerful all it takes is "one blast of His nostril". Then Abba took me to Joel 3 and the 18th verse was quickened to me. This passage of scripture speaks of "new wine" dropping down: The flow is from the Kingdom of God. There has just been this emphasis on new wine and the fact that we are to tap more fully into the Kingdom of God! The people of God are to impact the world out of the fullness of the Holy Spirit, with His gifts and graces in operation. It is something he alone does, and so the ripple on the water is from Him. Still in all, we have to discern and be aware of the ripple, for it a "gentle agitation." It speaks to knowing His voice, to being led of and walking in the Spirit. We have to respond to the ripple, and we have to desire it. "The hills shall flow with milk" the scripture says. This alludes to the promise land for the people of God, a place of abundance and blessing. Yes, we are to be blessed in the natural, but I think you know me well enough by now to know that is not my focus. All of that shall be added to us as we continue to seek the Kingdom of God. The abundance I write about is the blessings of the gospel, teaching blessings of the principals of God's Word. To be founded on the Word, to believe it and do it is to be a Kingdom person! That is the "promised land." All true believers are called those "who through faith and patience inherit the promises." ( Hebrews 6:12). We are" heirs of the promise" (v.17) There are some promises in Joel 3:18 and I just shared one: Abundance. Another promise we can expect because of the ripple on the water is the refreshing power of the Holy Spirit as we praise God, for "Judah" means "May God be praised". The praises of God's people rippling and flowing together like tributaries, forming rivers of living water. How Abba desires the unity of such an act! Consistently! Why? Because it sets the atmosphere for the waters of life to flow. Holy Spirit desires to flow through his people! I do not think it is an accident that "waters" is symbolic for all of the nations of the earth. Have you ever noticed how powerfully God moves when "the nations," people of ancestry from every continent worship on one accord, in Spirit and in truth? Powerful! God is God of the nations, and such worship greatly pleases Him. We are one in the Spirit! What is the result of these rippling "streams" flowing together? Still another promise: The people of God, His "house" become a fountain, a source of satisfaction. The Presence of God, the rivers of living waters like a thirst-quenching, cool glass of water for dry and thirsty souls! Abba wants there to be a gushing and springing forth of living waters. Life! The life of God. We are to "drink abundantly" and thirst no more. Souls He sends are to find times of refreshing in the house of the Lord. Abba Father is saying something more and there is a reason He has caused there to be a ripple on the water. How can his house be a source of the waters of life if there is a dryness? For you see Shittim mentioned in this scripture was a very dry valley in Biblical times. Do not be offended. Even in the natural, I have read, if one waits until they are actually physically thirsty, one is already dehydrated. Water is needed before thirst sets in. There is a need for Holy Ghost hydration! The promise, and you know the word "Shall" throughout this passage means a promise, is that Abba wants to "water" us. That is what I believe I saw with the ripple on the water. That dry place is being moistened, even irrigated. I encourage you to take heed and drink heartily of the Spirit of God. Let us be so full of His Spirit that the exhilaration is akin to being drunk! Have you ever been "drunk" in the Spirit"? We need a "this is that" flow!
Acts 2:14-18
But Peter, standing up with the eleven, lifted up his voice, and said unto them, Ye men of Judaea, and all ye that dwell at Jerusalem, be this known unto you, and hearken to my words:
For these are not drunken, as ye suppose, seeing it is but the third hour of the day.
But this is that which was spoken by the prophet Joel;
And it shall come to pass in the last days, saith God, I will pour out of my Spirit upon all flesh: and your sons and your daughters shall prophesy, and your young men shall see visions, and your old men shall dream dreams:
And on my servants and on my handmaidens I will pour out in those days of my Spirit; and they shall prophesy:
God's Spirit flowing to that degree is intoxicating , joyous, empowering, and contagious. "And it shall come to pass in that day", our opening text says. That day is NOW. We are still in the days of the Acts of the person of Holy Spirit: This is That! There is a much needed "ripple on the water". God is stirring us up by the wind of the Ruach haKodesh, by the Divine breath of His precious Holy Spirit. Oh, yes! The flow is from the Kingdom of God. Water, soak and saturate the dry places with your Presence, Abba! Across the Body of Christ, we are thirsting for
"The Ripple Effect!"
Grace be with you,
Prophetess Vickie Lee
Categories: Prophetic, Exhortation, Relationships
/